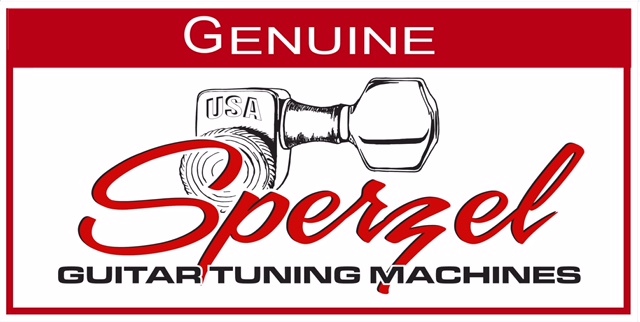 Custom Options
Here at Sperzel we offer custom manufacturing services. We have made tuning keys for electric violins, nylon string tuning keys that mount thru the back of the head stock, and our unique design key allows us to produce different length spacers and worm shafts to extend out past contoured shape headstocks.
These are some of the special products we have been asked to produce for custom applications. Our tuning key design makes us more flexible for the custom builder.
Sperzel tuning keys offer our unique design and precise machining tolerances to eliminate shaft wobble and provide minimum backlash and endplay, which greatly reduce your guitar's tuning problems. Our housing extends further up the shaft with the bushing threads on the outside, keeping the string post solid.
Our unique design allows you to choose the style of housing (or body), Enclosed or Open Back, and also what model string post, Trim-Lok, Sound-Lok or Solid-Pro, is right for you. Custom builders welcome.
In addition to completely custom tuning machines, Sperzel offers a number of button shapes and finishes to choose from, as well as your choice of the largest selection of colors available on any tuning machine in the industry.
Ny-Loc
®

Tuning machines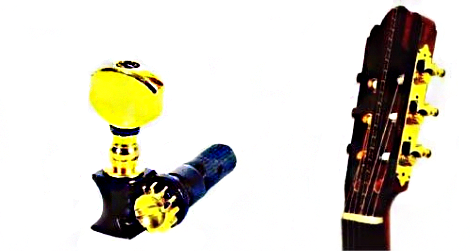 We are proud to introduce to you our Ny-Loc tuning machines for nylon stringed instruments. Now classical guitar players can tune their guitars and play with the same confidence the steel string players have been experiencing for decades.
Your strings can stay in tune longer! Simply replace your stock tuners now with a set of Sperzel NyLoc Tuners to experience the difference.
The Ny-Loc System is a patented friction locking system with the look of vintage sting posts. The Ny-Loc needs no measuring to restring! Feed the string through the hole and pull until tight. Next, wrap the string aroung the grooved nylon sleeve once and then tune to pitch as usual. The last step is to cut the excess string and play.
Our EZ re-string method eliminates the trouble with restringing using stock tuners, but please note that you will need to re-adjust the fine tuning as your string stretch into place.
Mounting Options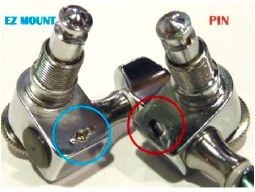 We offer two different mounting options for all of our tuners — Standard pin mounting, and our EZ-mount system.
The standard pin mount requires that you drill a small hole to fit the pin that keeps the tuning machine in line. To help make this process faster, easier, and more accurate we offer a drilling fixture to help you line up the pin hole like an experienced luthier.
The Sperzel EZ-Mount requires no such drilling for the mounting pin. There are two prongs projecting from the back of the housing that actually sink into the wood as you tighten the washer and barrel nut onto the headstock. These prongs effortlessly perform the same task as our standard mounting pin - keeping the tuning key from moving on the headstock - without the added drilling.
EZ-Mount can be ordered for 6 in-line or 3x3 style headstocks. Simply line up the tuning key on the headstock to look straight, then hold in place as you tighten down the washer and barrel nut — it's that easy.
Please note that we do not recommend EZ-Mount on bass guitars.
Required Holes
In order to mount Sperzel Tuning Keys on your guitar you will need hole sizes of 10mm or 25/64"