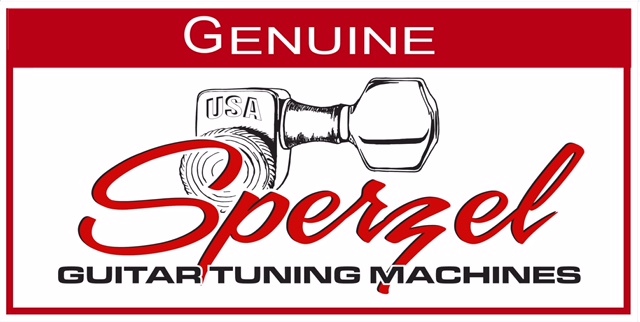 Tuning Machines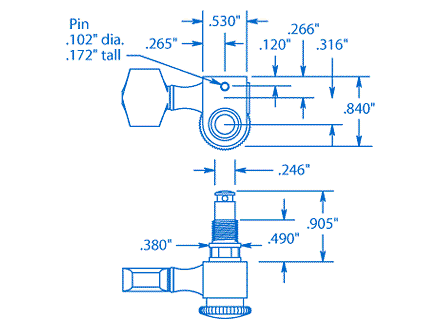 Sperzel tuning keys consist of advanced design standards. Every component is designed to provide stable performance and reliable action during combined movements. Our standards do not allow loose or floating components that are evident with older, traditional stock tuning keys. Eliminating age-old tuning problems and improving tuning capabilities was recognized on the back cover of the October 1979 issue of Guitar Player magazine, where it was described as "the first significant advance in guitar tuning capabilities."
Our tuning keys are machined from solid billet aluminum for light weight and held to precise tolerances and quality checks to produce a precision tuning key. All of this combines to help eliminate shaft wobble and endplay and minimize backlash.
Our Trim-Lok model offers no tying or winding around string posts, greatly improving your tuning capabilities for playing style and enjoyment. Rid yourself of Tuning Torture Syndrome!
Aluminum also allows us to offer a wide range of anodized colors in solids or combinations. Anodizing is a very durable finish that does not affect the integrity or precision of the tuning key.
All guitar models are easily reversible, allowing conversion to left-handed or custom configurations. Sperzel has been manufacturing staggered string posts since the late 1970s, allowing for better pull through the nut and reducing the use of string trees on six-in-line guitars with flathead stocks. Guitars with tilt-back head stocks use all one post height; our years of experience will help you determine the height you need. This is important to know when ordering the correct set of keys for your guitar - staggered for flat; non-staggers for tilt-back.
Bass tuning Machines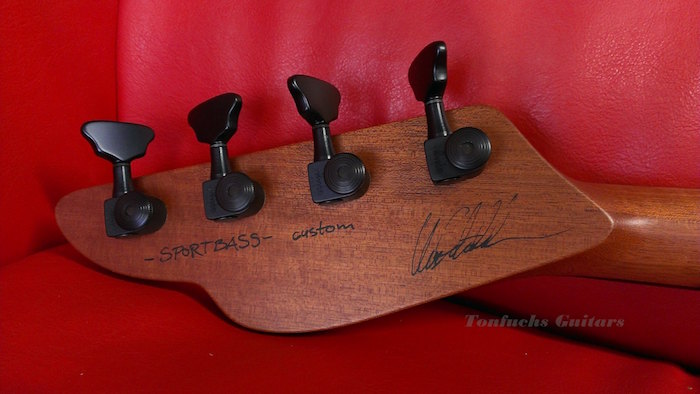 The same unique design and machining as our Trim-Lok Guitar tuners, but in a bass version. Our new Trim-Lok Bass tuners eliminate the need for multiple wraps around the string post. Just insert the string into the hole, turn the lock, and tune 'er up!
Sperzel Bass tuning keys can be used on headstocks with 7/16" holes. The hole for the string will accept up to a .125 bass wire easily. So whether it is all inline or 2x2, or even an outrageous 5x3, you are covered. Simply choose how many you need!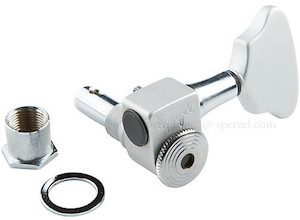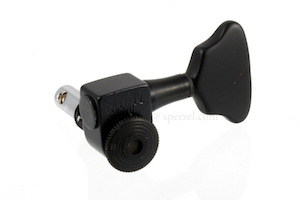 Our smaller Bass tuners require a 7/16ths or 11mm hole in the head stock. The post shaft is .300 and the string hole .125. The unique Trim-Lok design eliminates multiple wraps around the string post for better tuning stability.
Finishes: Satin Chrome, Chrome Plated, Black, Satin Gold, Gold Plated
FYI: if you are using a tremolo you absolutely need a self-lubricating nut with bass locking tuners.
Please note that we do not recommend Ivory or Pearl buttons on Bass tuners, and we do not recommend EZ-Mount for Bass.